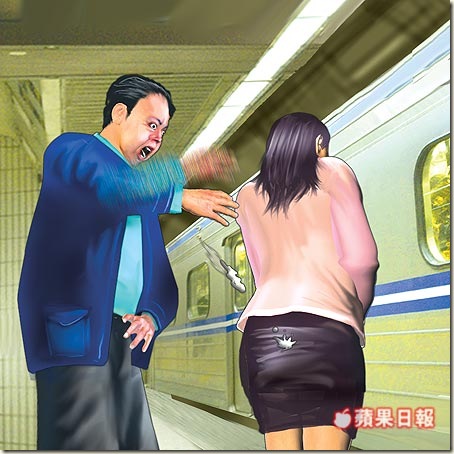 One night on the train home with her friends, a woman's friends pointed out to her that she's had some white milky sticky stuff on the back of her skirt.  The victim used wet napkins to wipe it off and reported it to the police at the next stop.
The police looked at the security video and located a suspect.   Suspect admitted to the police that he saw the victim waiting for the train and thought she was pretty.  He stood about 8 inches behind the victim with his hands in his pants and had his jacket covering himself.  When he was done, he tried to shake the stuff off his hand, but he had no idea how it got on to the victim's skirt.  The prosecutor decided not to prosecute the suspect because there is no proof of the suspect actually laid his hands on the victim.
Upon leaving the courthouse, the suspect was attacked by a crowd of angry women who lynched him on city streets.
The victim was later discovered to be pregnant and says she regrets reporting the crime because father of her child is now dead.
Tags:
Apple Daily News
,
fatherless child
,
French Toast
,
pregnancy
,
semen thrower
,
victim
8 Comments »