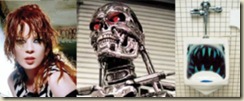 This season of Terminator: The Sarah Connor Chronicles started off with a bang.  It really did, and you have to love a show that gives you what you want.  Hot girl killer robots, 'splosions, aging female rock stars, flipped cars, and stapled faces.  It was one of my favorite shows last season topping Lost and Heroes and it looks like the trend is going to continue.
I'm still shocked at how Brian Austen Green has somehow transformed into a tough guy. From his very annoying role on 90210 in the 90′s you'd think was impossible, but he managed to pull it together.
The kid who plays John Connor seems to be toughening up a little bit too this season.  I hope he does because he can get annoying with all the whining.  You can't save humanity if you're crying all the time.
The hot girl robot from Firefly got really beat up last season and they didn't fix her looks.  Her face is all bashed open and she even staples her cheek shut at one point.  I hope they repair her somehow because the show really benefits from the eye candy. Read the rest of this entry »
Tags:
baby jake
,
HDTV
,
Terminator
,
Toastmaster
8 Comments »