CLEVELAND, OH- The effects of a sliding national economy are being felt around the world, with many middle and lower-class, working families finding new ways to fend for themselves. As prices rise from the pump to the grocery store, an unconventional and controversial method for stretching dollars is gaining popularity in low-income areas.
People are finding that it is more economically feasible to feed their animals live prey as opposed to buying canned or bagged food from the grocery store. In fact, the recent pet food scandals have added fuel to this practice, causing many working-class families to turn to animal shelters and rescues for inexpensive alternatives.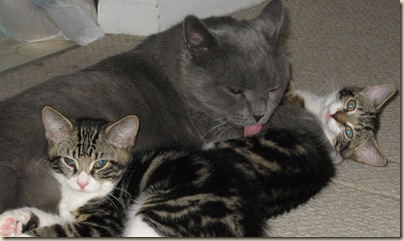 Winston, a 7 year old Russian Blue, prepares for his evening meal of two kittens from LIVE FEED.
cannibal
,
cats
,
Electricspatula
6 Comments »