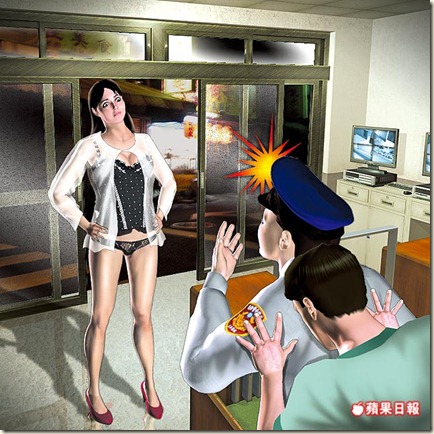 Around midnight on April 25th, a 32 year old man ran into a police station in his underwear asking for protection from his wife.  Three minutes later the wife showed up in lingerie  looking for the husband.  The police offered her a jacket to cover up with.
Upon questioning the couple, the police found that the wife was suspicious that her husband might be seeing other women.  She buys sexy lingerie and forces her husband to have sex with her every night so he'd have no energy left to mess around with other women.  The night of the incident, the wife wanted to do it again after the first round, but the husband said no because he was too exhausted.  The wife insisted and tried to get him up for over an hour, eventually the husband couldn't take it any more and just ran out to the nearest police station asking for help.
The husband insisted that there's no other women and his wife just watched too many soap operas.  Police told the husband he could file charges against her for forcing him to have sex but they should try to work it out.  The couple left with the policeman's jacket, no formal charges were filed.
Translated to English from the original http://tw.nextmedia.com/applenews/article/art_id/33344024/IssueID/20110426
Similar Posts:
Tags:
Apple Daily News
,
French Toast
,
police
,
wife