A local restaurant faxed their lunch menu to the office of a friend with an unusual lunch special– Rip Rourin Crap Soup.   The friend faxed the restaurant back a note inquiring "Whose Crap? What Kind of Crap?" They received no response.
A call was later placed to the restaurant.   Before even saying hello, the person who answered yelled "It's CRAB SOUP!" and hung up. It seems the soup special was generating a lot of interest.  The actual menu is below with some added blurs to protect the restaurant. Most restaurants probably serve some percentage of sewage in their soup anyway, at least this place is honest.
By the way I'll have a serLION steak.  Does it come with real lion meat.?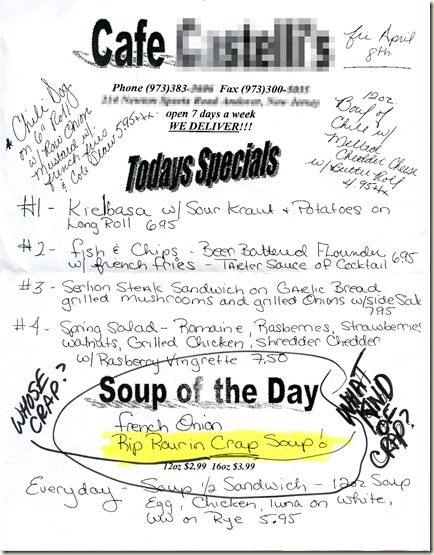 Similar Posts:
Tags:
Crab Soup
,
Menu Mishaps
,
Rip Rourin Crap Soup
,
Serlion Steak
,
Soup of the Day
,
Toastmaster