EMToast has done extensive market research and delved deep into EMToast personal memory banks to bring you the top 5 werewolf sightings of all time.
1: The Howling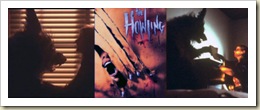 This is the mother of all modern werewolf movies.  It is the first known appearance of the long eared dog footed werewolf.  In the year 1980 terrifying commercials appeared across the country on late night television.  These commercials were so frightening that two young children aged 6 and 4 are said to have refused to go upstairs into their apartment because they were afraid that monsters known as "howlings" were waiting for them up there.  This film is EMT rated #1 for authenticity and for strict adherence to lycanthropic legend. It has what is considered to be the greatest of all werewolf transformations.The actor who played Eddie Quist was reportedly held in a Spanish prison  for several years.  Quist was vacationing in Madrid when several extremely Catholic Spanish officials had him imprisoned under their strict anti-witchcraft laws.  After being held underwater for several minutes, Quist admitted to being a werewolf and as such was sentences to a minimum term of 5 years in los prisona de federales.
The ending of this movie also has one of the worst werewolf transformations where the lady reporter turns into some kind of a poodle.  It's still #1 though.  Too late to change it now.
2. An American Werewolf In London


Another top werewolf movie.  No CGI here. The transformation is one of the best around, but points were taken off because the werewolf in this film an actual wolf and not a wolf-man.
This is probably the best cinematic example of the werewolf. Ticket sales were so high on this one that after factoring for inflation even box office blockbusters like Titanic can't touch it.
There was recently a bootleg CGI remake of this movie called An American Werewolf In Paris, but we'd suggest skipping it.
3. FOX Werewolf TV Series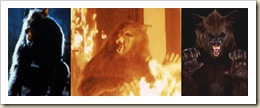 When the FOX network was just beginning back in 1986-87 they only had a few shows.  You had Tracy Ullman which spawned the Simpsons, Married with Children,  and Wednesday nights brought Werewolf.
This is another great example of the long eared dog legged wolf, however these wolves had extremely long arms and in some circles are called werewolf apes.
In an alternate universe Werewolf has been on the air for over 20 years and the Simpsons was cancelled after just 2 seasons.
4. Altered Beast


Sega's greatest creation featuring an undead werewolf bid to rise from his grave by the god zeus.  If you punch a white wolf in real life, I believe the orbs will allow you to "power up"  Punch 3 wolves and you become a wolf.  Go ahead and try for yourself.
5. Lives of the Monster Dogs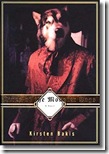 This book is about dogs who walk upright and talk.  They also have prosthetic arms.  Although they live as humans and even wear slippers and ascots they sometimes go crazy and shit the floor and scratch things up like they were regular pissed off dogs. They aren't technically werewolves, but close enough.  This one isn't even a joke.  Check Amazon if you don't believe me.
So there you have it, the top 5 EMToast werewolf sightings complete with lies, embellishments, and conclusive market data.
What are your top 5 werewolf sightings?

Similar Posts:
Toastmaster
,
werewolf