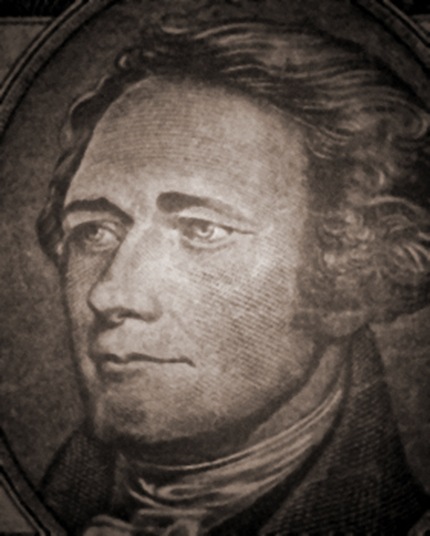 Alexander Hamilton, our beak nosed fifth president and designer of the 10 dollar bill lives right up the street from me.  It's kind of weird because I live in the 20th century and he died like 300 years ago.
But I hear he gets by alright.  He lives with his mom, sells antiques for extra cash, and mainly eats boiled cabbage.  Most of the food he gets comes from the dumpster behind the farmer's market.  Meat costs money so he's a vegetarian.
He never eats sugar because the white stuff burns our your endocrine system.  Somehow he still managed to acquire a rotten tooth that looks like it has pepper in it though.  The tooth will never be fixed because he refuses to have health insurance which is only for the rich.
He also refuse to pay taxes or have a job because he will not be a tool.  He says when he is old, he will be a charity case for the state because he has no money.  Anyone who does have a job or money is expected to pay his way because they have it easy, even though he has self imposed poverty.
He has no need to endure the trauma of showers because every 30 days his body renews itself.   The dead skin sloughs itself off and his hair is no longer oily – a trick he learned from Ben Franklin.   He states, "I'm very comfortable with my own body odor."
Since he doesn't use his shower, he allows his cat to shit in it instead of giving it a litter box.  He says "the cat aims it's pee right down the drain and leaves its crap like a neat little pack of sausages."
He's had the same car for 16 years and has never changed the oil, tires, or brakes.  Only his sheer force of will keeps the machine from rattling apart.  No mechanic will even walk past the car for fear of a lawsuit.
He waterproofed his basement by lining it with old shopping bags and rocks.  He urinates in mason jars and leaves them down there for his sons to find centuries later.
A favorite Sunday dish at the Hamilton homestead is fried groundhog with maggot larvae.  Every year they capture a lucky rodent, torture it for 3 days to tenderize, then drown it in a mud puddle, and stab it with sticks. Then they feast on it's shoulder meat.  This years hog had "shoulders like a hero."
He likes to wear women's skirts because gender is an illusion, a concept generated by society to perpetuate their consumerist attitude.
Even though he's well over 300 years old, he refuses to have any friend over the age of 25 because it makes him feel young. Having young friends keeps him up to date with the latest 80's fashions and songs like Outkast's Hey Ya! and Queens of the Stone Age because he does not listen to main stream music.
He forces himself to listen to horrible music that even he doesn't like because he will not conform to mainstream society, the same one that he expects to take care of him when he's old.
I guess you could have worse neighbors.

Similar Posts:
Tags:
10 Dollar Bill
,
Alexander Hamilton
,
farmer
,
food
,
Franklin
,
Hamilton homestead
,
health insurance
,
mechanic
,
oil
,
president and designer
,
Toastmaster
,
USD