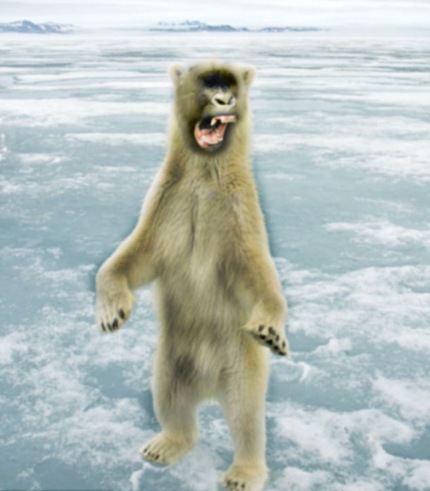 A strange creature dubbed the "bear yeti" has baffled Alaskan scientists.
The animal was trapped by a group of ice fishermen after locals reported spotting what they thought was a polar bear.
One fisherman said, "It looks like a polar bear, but moves like a bigfoot. We had it locked up, but the children kept feeding it sugar cubes.  At first it became friendly and liked them.  I was having a smoke break and wasn't paying attention since it had become docile. Then I overheard one of the children say "I think we gave it too much sugar."  Not a second later the beast broke free."
One child nearly lost a hand when the yeti swatted the jar of sugar cubes out of his hands.
The boy stated, "We were feeding him nice.  He would eat cubes from the hand.  He licked me.  Then his eyes turned whiter and he banged the wall until he got out.  I ran so fast, but he still got me.  He knocked the sugar from me and cut my hand with his paw.  Now I got infected. "
The boy's injuries are serious. The lacerations from the animal's claws were deep and infection has set into the bone.  Doctor's have him on an antibiotic drip, but the risk of amputation is great.
Alaskan scientists are studying the DNA of fur and droppings left behind by the "bear yeti" to determine whether it is a deformed polar bear, or perhaps a new species of primate related to the mythical sasquatch.

Similar Posts:
Tags:
bigfoot
,
sasquach
,
Toastmaster
,
yeti