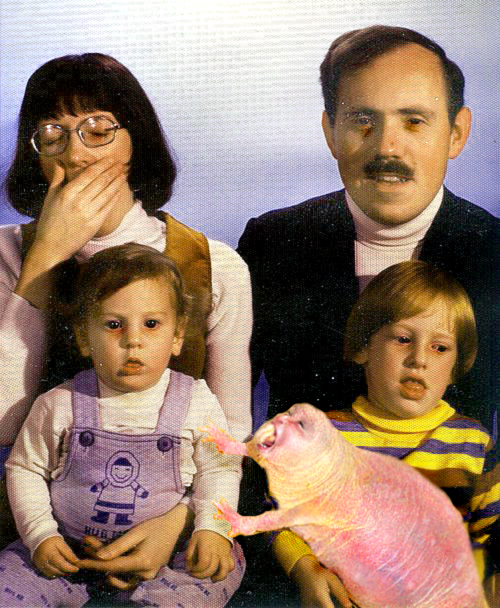 Professor Chekaren Suslov  has  unofficially adopted the creature he is credited with discovering while on an expedition in  in the Tunguska wasteland.
Chekaren Suslov pictured above with wife Innochka, sons Anatol and Alyosha and the creature, which the boys have named Babushka.
Innochka said, "This word babushka is what we call grandmother or old lady, the wrinkles of it's skin is what the children named it from."
When asked why they weren't afraid to have some unknown species of animal in their home, Alyosha  said that, "bab is nice , he cries some of the time when he is lost, but then we put him out in the yard. Mother is happy that he does not have hair that will come off on the furniture and out jackets.  He is a happy friend."
Babushka otherwise known as specimen 4815162342 is officially the property of  the Soviet Academy of Science.
Professor Suslov said that, " I have been given the responsibility of caring for the creature 24 hours a day, it comes to work with me in the morning and it comes home with me in the evenings.    I feel safer knowing that it is not left alone in the night at the lab and the children get to have first hand experience with one of the greatest zoological finds of the century."
Suslov jokes, " My wife has taken to making small  sweaters for it, besides who else can say they have such a pet as this,."
Similar Posts:
Tags:
babushka
,
Bixby
,
naked potato rat pig
,
russian family portrait
,
russian scientist
,
tunguska